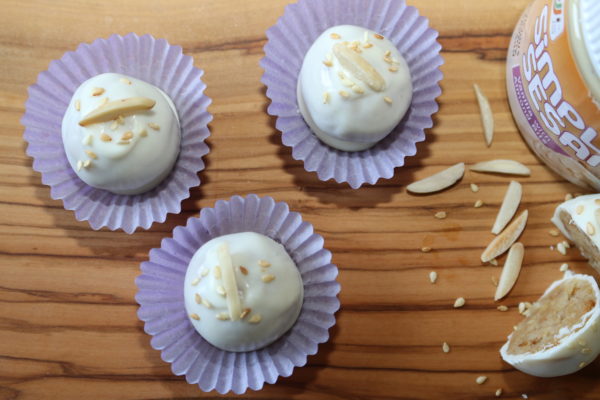 Vanilla Almond Sesame Cookie Truffles #SimplySesame
I am all in for this sesame ingredient bloggers recipe challenge.
Thanks to Bonelli Fine Food, Inc., in San Diego, California who produces healthy snack food spreads for this fine "Simply Sesame Blogger Recipe Contest". The company states that this spread is perfect for use as a peanut butter alternative or energy-packed meal supplement and has been in business for more than 5 years.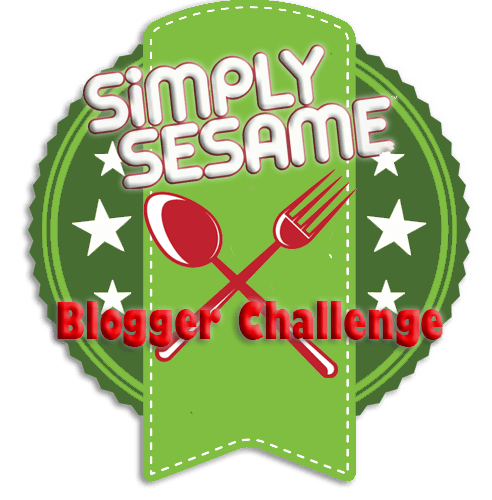 You need to look them up and follow this great product that is All Natural, Trans Fat Free, No Additives or Preservatives, Cholesterol Free on each of their social medias for more ways to use this wonderful product.
Facebook: https://www.facebook.com/SimplySesame/
Twitter: https://twitter.com/SimplySesame
Instagram: https://www.instagram.com/imsimplysesame/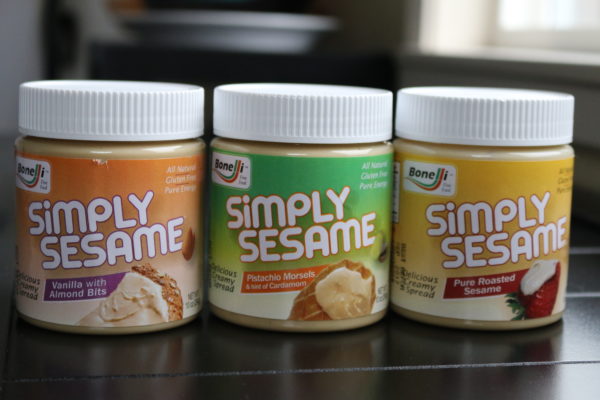 After accepting the challenge I received three creamy gluten free jars of delicious spreads. Vanilla with Almond Bits, Pistachio Morsels with a hint of Cardamon and Pure Roasted Sesame. I dipped into each container and experienced a flash back to my childhood. My Grandmother was a fan of a sesame treat called Halva. When I went to her house for childcare I remember eating slices of this sweet and decadent treat. This scrumptious spread is a sweet reminder of those wonder times.
My mind was flooded with so many recipe ideas. I could not stop thinking about the cookie truffle I made for my daughters wedding two years ago. This Vanilla Almond Sesame Cookie Truffles would have been the most unique and decadent treat of the day.
The Simply Sesame idea I had was a cookie truffle filling dipped in melted white chocolate coating,  so I bought I nice quality to make sure the final product was perfect.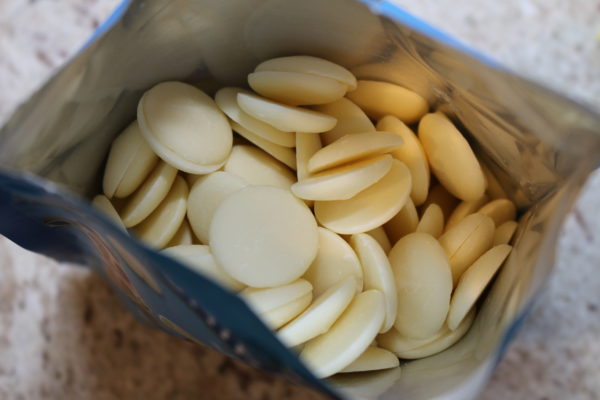 I melted the white chocolate coating in the microwave to make things more simple.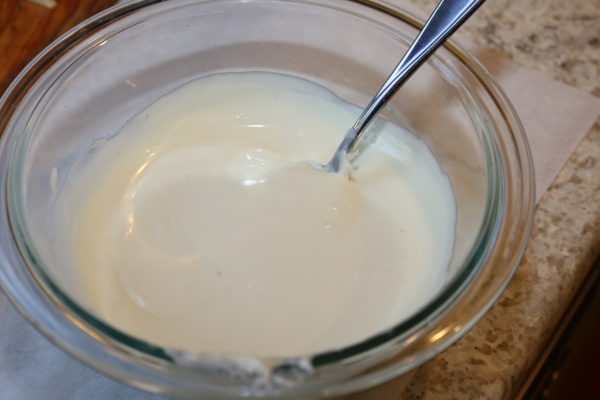 The main filling of the cookie truffle was crushed and pulsed together in a food processor until all of the ingredients were well blended.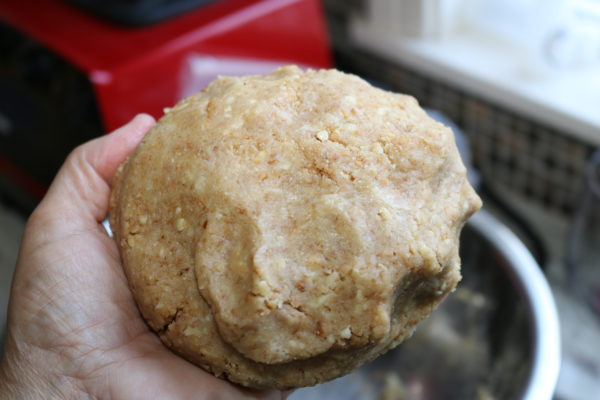 Once the filling was made and rolled into balls, each was dipped into part way the melted white chocolate melts.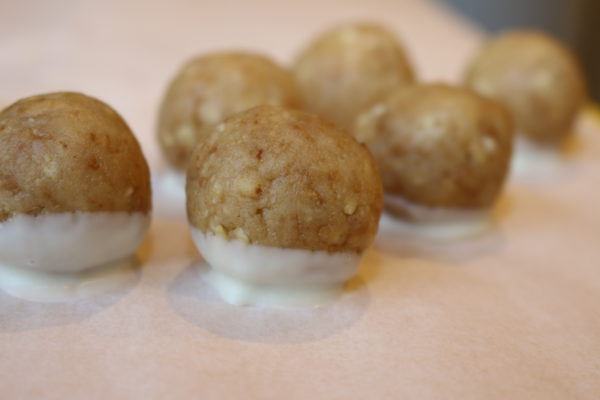 The extra bottom dip gives the cookie truffle a solid foundation. Once the chocolate sets the balls are ready for a complete submersion.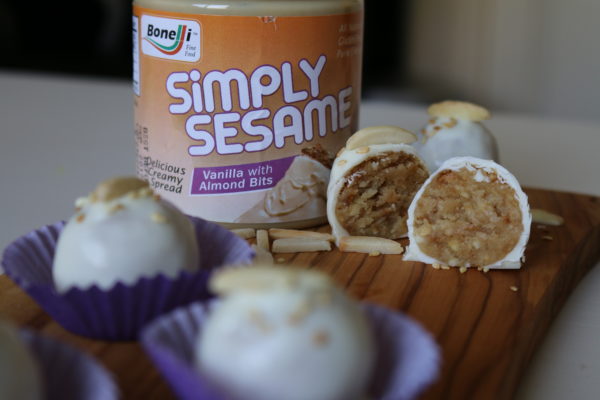 The soft cookie center that is filled with Simple Sesame spread, crushed cookies and softened cream cheese then dipped in white chocolate melts makes the perfect dreamy bite.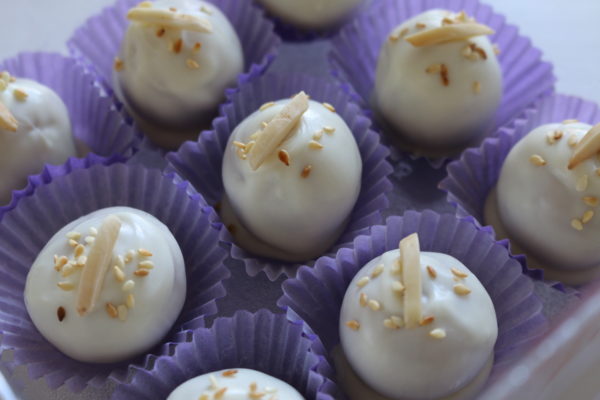 Vanilla Almond Sesame Cookie Truffles #SimplySesame
A sesame almond cookie truffle that is dipped in a white chocolate for a finishing touch of sweetness.
Ingredients
1/2 cup Simply Sesame Vanilla Almond Spread
6 ounces of vanilla cookie wafers
8 ounces softened cream cheese, room temperature
1/2 cup slivered almonds, toasted and divided
10 ounce bag white chocolate melting wafers
2 tablespoons toasted sesame seeds for garnish
Instructions
Remove 30 pieces of toasted almond slivers and set aside.
In a food processor, add the cookie wafers, remaining slivered almonds and pulse until they form a crushed mixture.
Add the cream cheese and the Simply Sesame Vanilla Almond Spread and pulse until all of the ingredients are blended. Roll the filling into 30 pieces and refrigerate.
Meanwhile microwave the white chocolate melting pieces for 1 minute, 30 seconds at a time, stirring after each round or until the pieces are melted and smooth.
Dip the bottoms of each cookie truffle in the melted white chocolate and place on parchment paper. Refrigerate and allow the footed chocolate on the cookies to harden before redipping the entire cookie for complete coating. Reheat the melting chocolate as needed. Be careful to not overheat the coating as it can harden up.
As each truffle cookie is completely dipped, sprinkle with toasted sesame seeds and a piece of toasted almond.
Refrigerate the truffles for storage and remove for serving.




by