Cowboy Bean Dish #SaucyMama
If you ask me what one dish my kids asked for over and over, this is one of them. They still love it as adults. Over the years I have tried changing up the ingredients but I always come back to my first recipe. Sometimes things should not be messed with. One ingredient I added years ago is liquid smoke. It is worth every drop. Buy a bottle, it will last forever in the cupboard. Use it sparingly as it is very strong and to much is not a good thing with liquid smoke.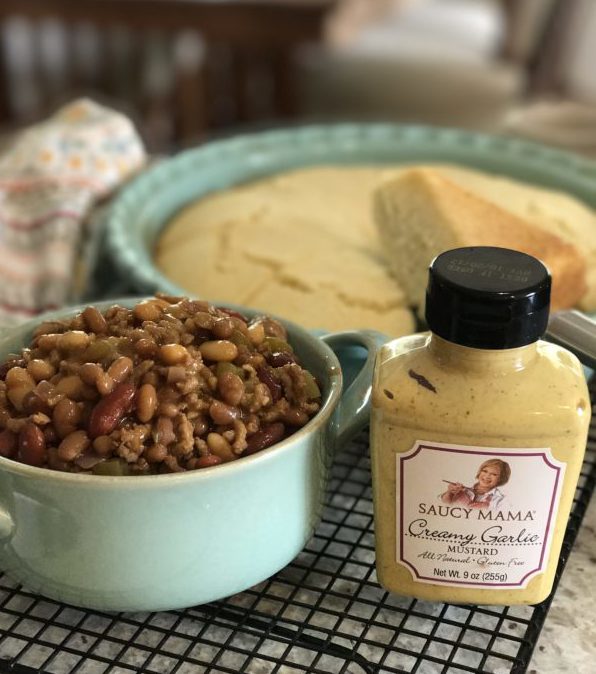 One ingredient that can be changed up is the mustard. I usually use a traditional yellow mustard but this round I used Saucy Mama's Creamy Garlic Mustard. If you have never tasted their mustards, you need to go to their website and get some. Really the best mustards around! PS I was not asked to say this, it is my own opinion. 🙂
Cowboy Bean Dish #SaucyMama
Cowboy Bean Dish is a quick and tasty meal that the whole family will love. It goes great with a salad and your favorite cornbread.
Ingredients
1 tablespoon fat, bacon fat is great or oil will work
½ large green bell pepper, small chopped size
1 small onion, chopped
1 pound lean ground beef (ground turkey will work too)
½ teaspoon kosher salt
¼ teaspoon black pepper
1-28 ounce can Bush's Baked Beans, Maple Bacon is my favorite, do not drain
1-15.5 ounce can light red kidney beans, drained
1-15.5 ounce can great northern beans, drained
¼ cup dark brown sugar
2-3 tablespoons yellow mustard or your favorite mustard
2-3 tablespoons ketchup
2 tablespoons molasses
1 tablespoon apple cider vinegar
1 teaspoon garlic powder
1 teaspoon onion powder
1-2 teaspoon liquid smoke (add slow if you want more)
Instructions
Sauté the onion and green bell pepper in the fat until translucent and tender. Add the ground meat, season with salt and pepper then cook until brown. Add in the remaining ingredients and simmer 20 minutes to allow the flavors to blend together.




by