Salted Caramel Apple Dessert Poutine with Toasted Pecans and Cheddar
UPDATE, great news, my recipe won second place in this contest. I received a free ticket to the 2016 Food and Wine Conference in Orlando Florida and $200.00 Visa Gift Card, a total of $500.00 value!! Thanks Idaho Potato Commission for choosing my dish!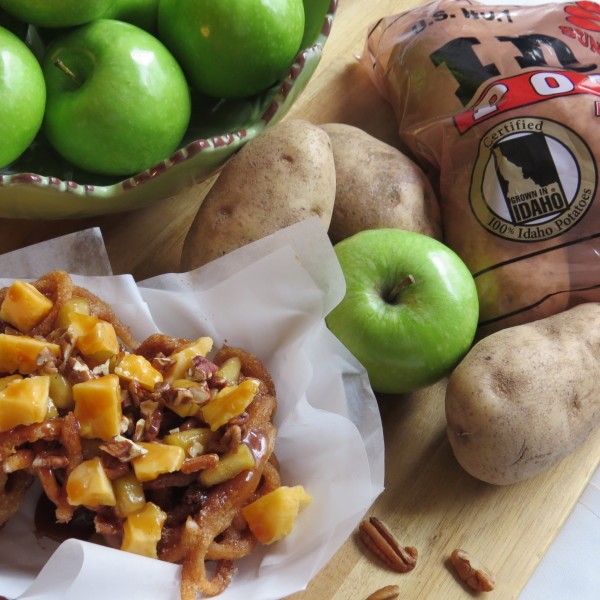 Poutine, poutine, I am ready to poutine. If you have been following my food competition adventures, you will understand why I am super excited to enter this contest that is being held by Idaho Potato Commission Recipe Contest for National Sunday Supper Month. IPC is giving away three great prize packages that include cash plus Food and Wine Conference Tickets MAY 13-15, 2016 in ORLANDO, FLORIDA at the ROSEN SHINGLE CREEK and I want to attend!!
1st Prize — $500 + Food Wine Conference ticket
2nd Prize — $200 + Food Wine Conference ticket
3rd Prize — $100 + Food Wine Conference ticket
January is National Sunday Supper Month which is only one small part of the Sunday Supper Movement. What is the Sunday Supper Movement? Well did your family ever have home cooked meals around the table on Sundays? Mine did. I remember my parents cooking every Sunday. One of the reasons I knew it was Sundays was because dinner time was when the Wonderful World of Disney was on TV. We had a small TV next to the kitchen so we never missed an episode.
When my four daughter's were young and at home, we always had home cooked meals around the dinner table. Now it is my husband and I, unless we are hosting the kids and their families. This Sunday my hubby is preparing a smoked Tri-tip. I am so looking forward to that.
Isabel Laessig, better known as Family Foodie, is the founder of the Sunday Supper Movement and the Food and Wine Conference. Her mission is to bring families back to the dinner table, one meal at a time starting with Sundays!! You can learn more by visiting Family Foodie website and stay up to date by following along on Twitter, Instagram and Pinterest using @FamilyFoodie. Don't forget to hashtag your meals with #SundaySupper
Ok, back to Poutine!! The requirements for the contest state that I must create a potato dish that is "inspired by this French-Canadian classic". What is poutine? Comfort food that makes you want to curl your toes. Traditional poutine is comprised of french fries, brown gravy, and cheese curds. The rules also say, "there is no requirement to fry the potatoes, in fact, we welcome creative ways of cooking potatoes for new interpretations of poutine."
While thinking about my entry, I had a flashback to this summer. I was the Chair Coordinator for the Baked and Preserved Foods for the Oregon State Fair. I arranged many of the culinary competitions and demos as well as doing several cooking demos myself. I pretty much lived at the fairgrounds for days before, during and after the fair. I would take breaks, scope out the vendors and grab a bite to eat.
If you know fair food, it ranges from the quick and easy caramel apple on a stick, cotton candy in a bag, Kettle Corn of multiple flavors, Asian noodle dishes built for two people to the decedent fried Oreo or Twinkies. I also saw a lot of happy faces carrying around their humongous stacks of curly fries, dripping with ketsup. My mouth is watering. It's a good thing the fair is only one time a year.
That was it, I wanted to make a poutine that was fair worthy and out of the box. I believe I nailed it. Something fried (even though it was not mandatory to fry the potatoes), creamy like a gravy, with crunch and of coarse CHEESE!!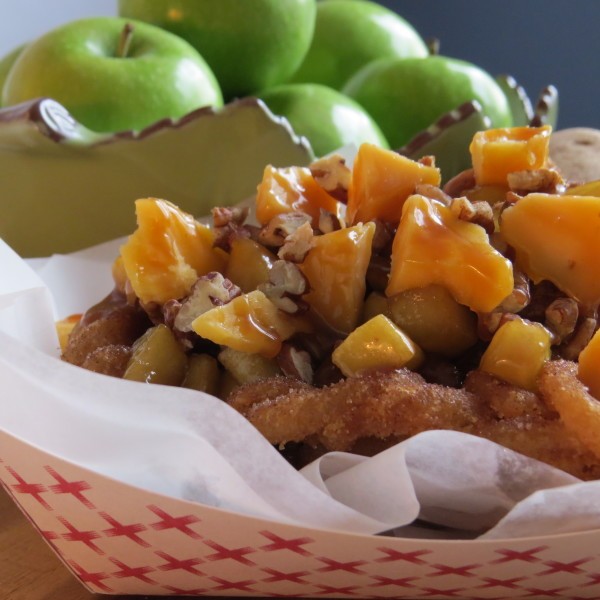 The real kicker for this dish is making Idaho Potatoes into a dessert. I have used sweet potatoes for dreamy side dishes or desserts but never a potato. Thinking of the curly fries at the fair, I used that as my inspiration.
I choose the Granny Smith apple to help balance out some of the sweetness and pecans for some crunch. Oh and guess what goes well with apples for dessert…CHEESE!!!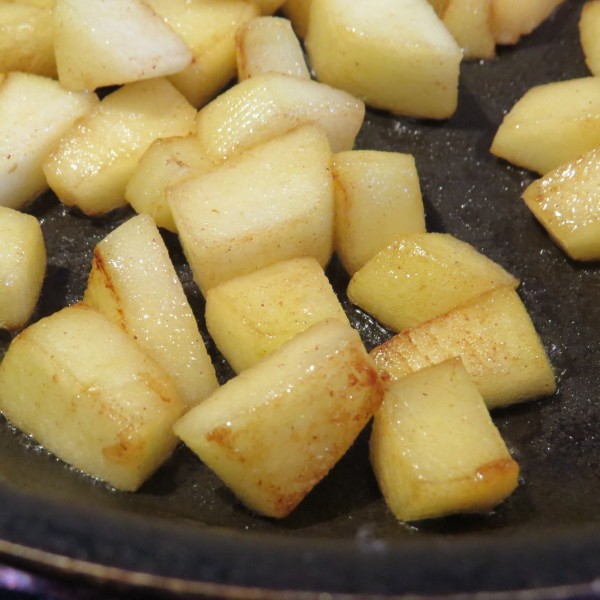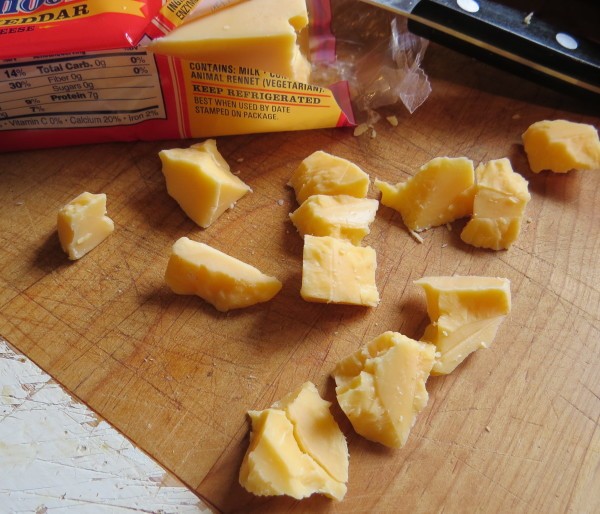 I made a salted caramel sauce from scratch but I think that a good quality store bought caramel sauce would work too. Just add in the cooked apples and your sauce is ready to go!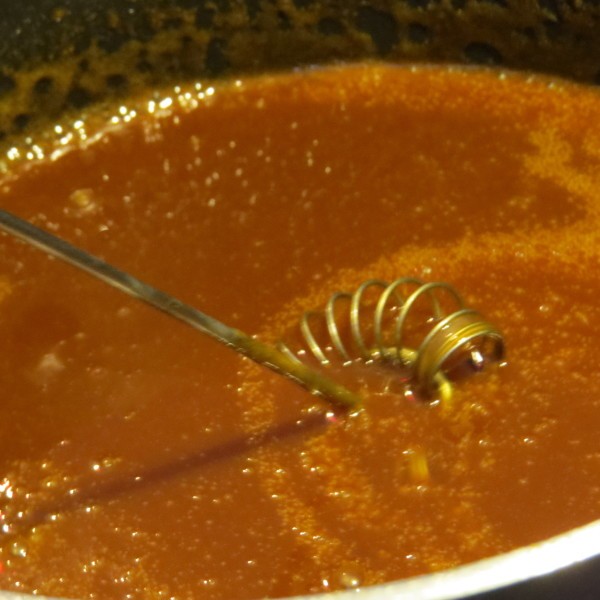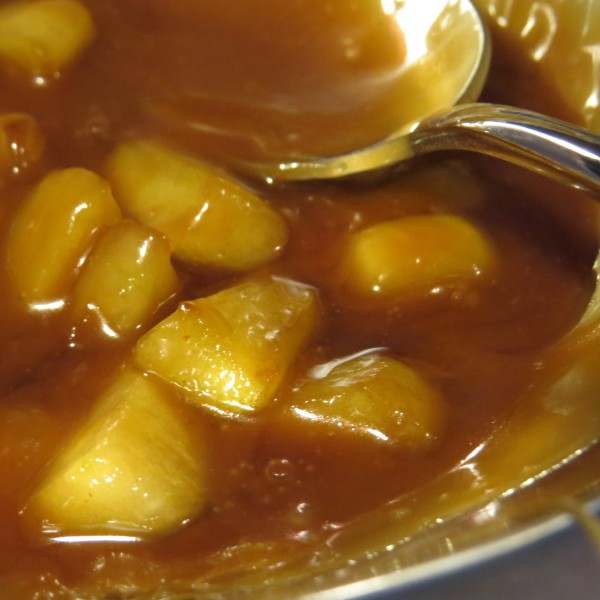 Curly fries at the fair…spiralized fries at home!! If you do not have a spiralizer, you can use a mandoline or a handheld julienne slicer to cut thin strips.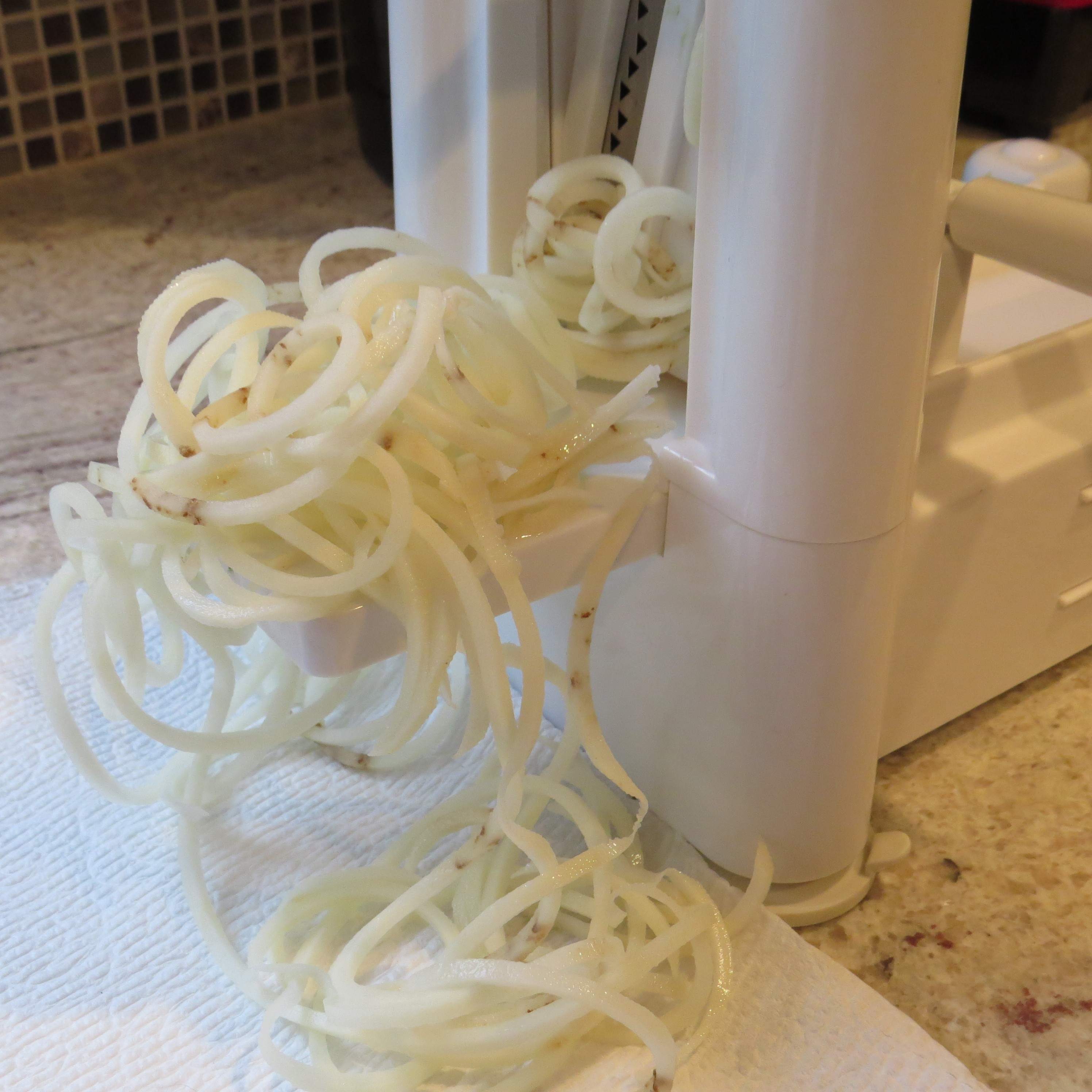 After testing the recipe, I decided that I needed to keep the potatoes dry and dredge them in flour before dipping them in the cake mix batter. After testing different cake mixes, I decided that Vanilla Cake mix without pudding in the mix works great!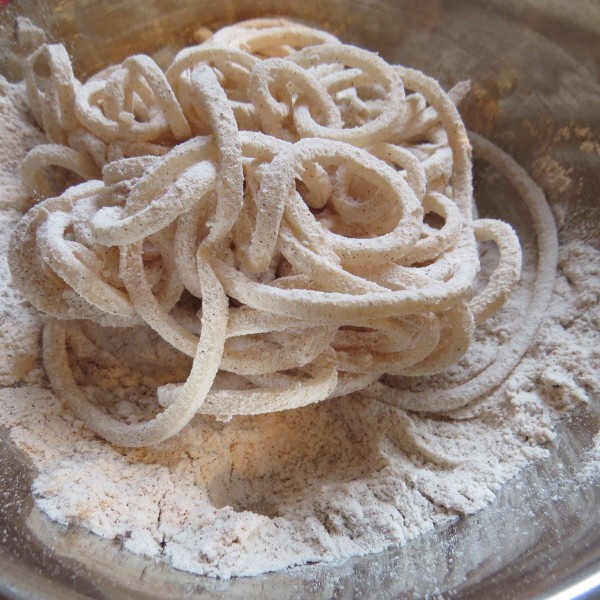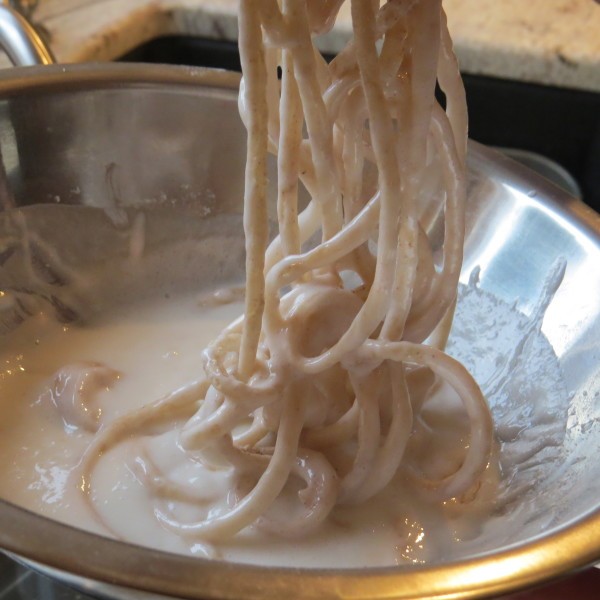 One of my kids came home, walks inside and said, "What did you make, I smell food?" When I told her what I was working on and that we ate it all, well, she gave me the look!! The deadly look of "You didn't save me any?" look!! I won't tell her that I made it again and ate that too! 🙂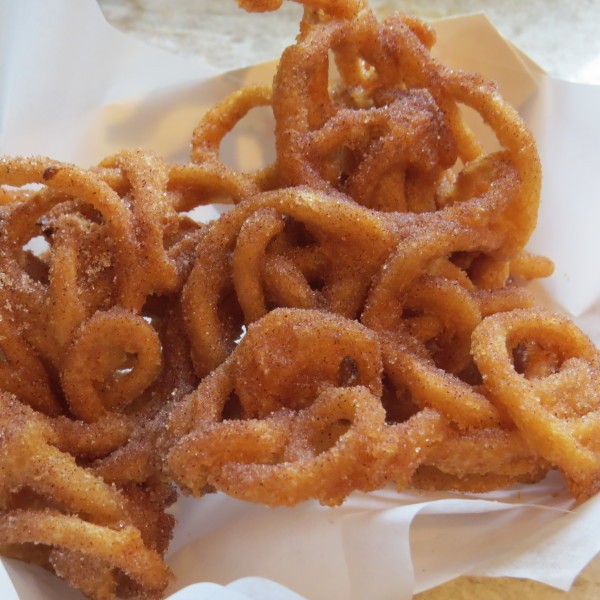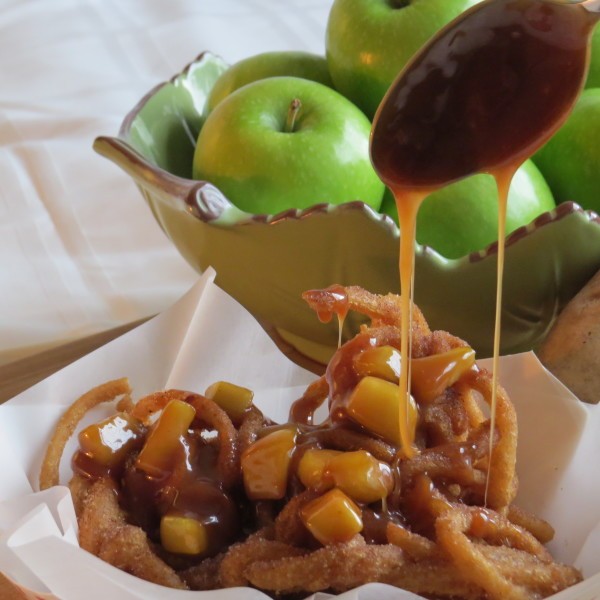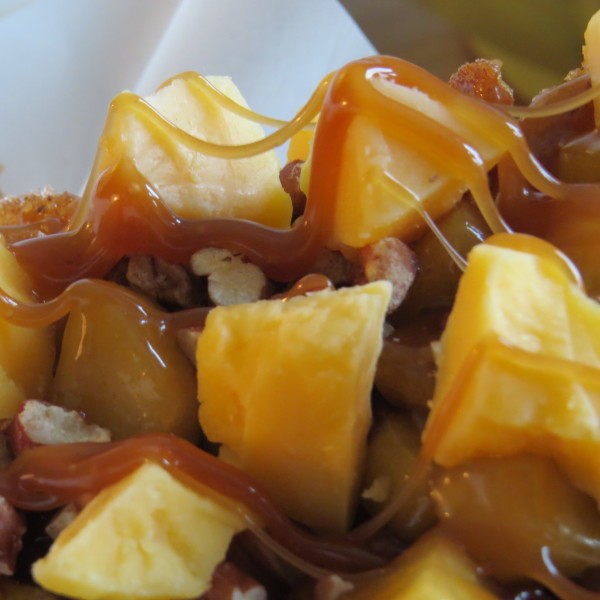 Is your Sunday Supper ready for some Fair Food for dessert? A dessert that will bring the family together!!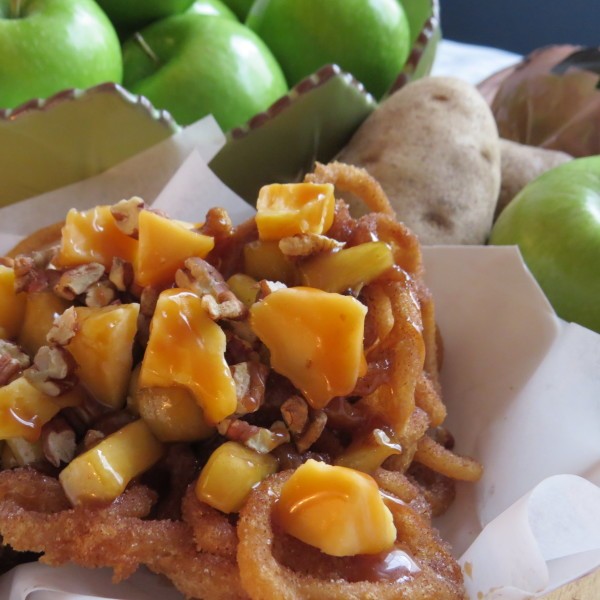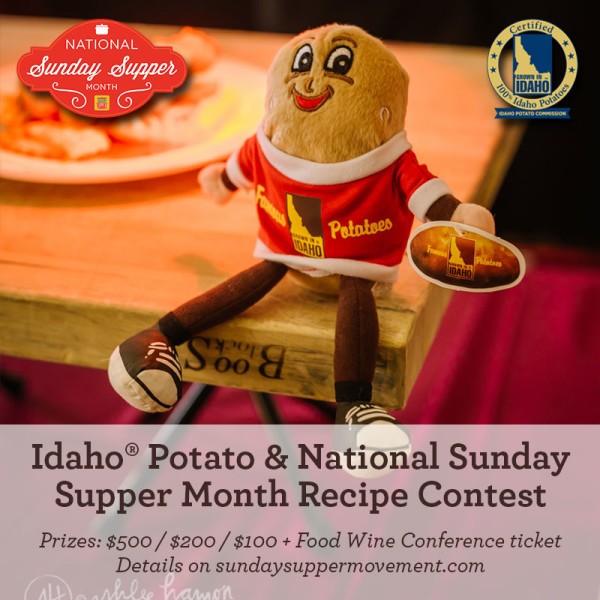 Salted Caramel Apple Dessert Poutine with Toasted Pecans and Cheddar
A poutine inspired surprise dessert that will have the whole family talking and eating. Spiralized Idaho potatoes are dipped in cake batter, fried and topped with a salty caramel apple sauce. It's poutine so we can't forget the cheese, cheddar cheese!
Ingredients
4 Idaho potatoes, peeled and spiralized, (approximately 5-6 oz each)
2 Granny Smith apples, peeled and diced (medium size apples)
¾ cup flour
1 ½ cup dry Vanilla Cake mix (without pudding in the mix)
1 ¾ cups plus 2 tablespoons water
2 cups sugar, divided
2 tsp ground cinnamon, divided
¼ cup pecan halves, toasted and chopped
4 ounces sharp cheddar cheese, broke into small chucks
½ cup heavy whipping cream
6 tablespoon butter, divided (not unsalted)
½ teaspoon kosher salt
2 quarts vegetable oil for frying
Instructions
Prep toppings for the dessert poutine:
Toast the pecan halves in a dry skillet over medium heat for several minutes or until they begin to lightly brown. Stirring the nuts frequently around in the pan and not leaving the skillet unattended will help with over browning. Chop the nuts and set aside.
Cooking the apples: In a large skillet over medium heat, sauté the peeled and diced apples in 2 tablespoons of butter until they are only slightly tender and have golden edges. Remove from the skillet and set aside.
Break up the sharp cheddar cheese into rough small chunks and set it aside.
Making the caramel sauce: In a medium- large saucepan, bring to a boil 1 ½ cups sugar and ¼ cup plus 2 tablespoons of water. Continue cooking the dissolved sugar mixture until it begins to turn a golden amber color. This can take 5-8 minutes. You can use a candy thermometer for this step which most likely will read near 340-350 degrees. But the sugar mixture can turn dark very quickly so be prepared to move onto the next step if starts to turn to a golden amber before the temperature hits its mark.
Once the sugar mixture has reached a golden amber color, lower the heat to the lowest setting and carefully add 4 tablespoons of butter. The liquid will bubble and rise up. Continue stirring and then add in the ½ cup of heavy whipping cream and kosher salt. Stir for several minutes until the caramel sauce is smooth and golden brown. Remove from the heat and add in the cooked apples. The caramel sauce should be warm when assembling the dessert. My caramel sauce stayed warm while I made the fried potato strings. You can either reheat the sauce on low heat or it can be microwaved if it cools before assembly. Just be careful to not overheat the sauce.
Making the fried potato strings:
Peel the potatoes and spiralize each one, keeping each potato separate. Pat each bunch of potato strings with a paper towel and set aside to dry.
In a large dutch oven, heat the oil to 350 degrees. The oil should be several inches deep and the pot should be large enough for the oil to rise when frying begins.
In a medium bowl, mix together 1 teaspoon ground cinnamon and ¾ cup of flour and set it aside.
In another medium bowl, blend together the cake mix and the remaining 1 ½ cups of water until smooth and set aside.
In a small bowl, mix together ½ cup sugar and 1 teaspoon ground cinnamon and set aside.
Begin the frying process by working with one potato bunch at a time. Dredge the potato bunch in the flour mixture while shaking off any excess. Dip the floured potato bunch into the cake batter mix and shake excess batter off, then carefully lower into the hot oil. Fry for 4-5 minutes turning the potato strings after several minutes. The strings need to fry until they are golden brown to ensure that the potatoes are cooked inside. Remove the golden strings and allow to drain on papertowels. Immediately sprinkle the potato bundle with the sugar and cinnamon mixture. I sprinkled all sides to make sure all of the strings were sugared!!
Assembling the dessert poutine: Place the fried potato bundle in a bowl or plate, drizzle with the salted caramel apple sauce, toasted pecans and cheddar cheese. Then to really top the dessert, drizzle a little more caramel sauce over the cheese, why not!!!!




by