Sippable Peach Pie with Almond Pastry Leaves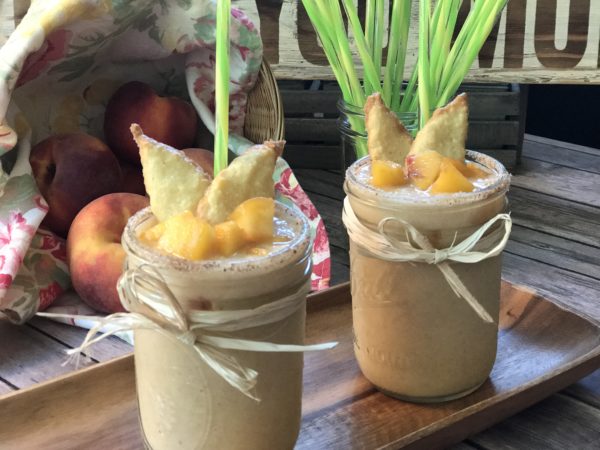 Oh what a relief it is to find a delicious natural sweetener. Not just one product but many different varieties for all baking and cooking needs.
I applied to take the bloggers recipe challenge from Steviva Brands and was accepted. Just look at that Grand Prize package. 🙂

One Grand Prize Winner: $1,000.00 Cash Prize
One Beverage Category Winner: $500.00 Cash Prize
One Entree Category Winner: $500.00 Cash Prize 
One Baking Category Winner: $500.00 Cash Prize
They graciously mailed out four full size all natural sweeteners; Nectevia, MonkSweet+, Fructevia and Erysweet. Most are all gluten free, Vegan, Diabetic safe and low glycemic. Just head over to their website where each are tested and labeled.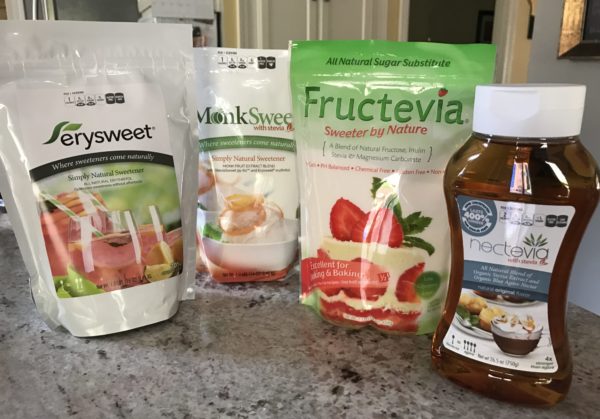 The products are in granule form as well as liquid form such as their Nectevia which is perfect for beverages. In fact they have so many awesome products, you will want them all. Like a kid in a candy store, I cut them open and dipped my finger in. Yeap, sweet and tasty with no yucky aftertaste. Just what I was hoping for.
I started creating a recipe for the beverage category first. An all natural sweetener desires to be paired with other good for you ingredients…Fresh local Oregon peaches, dairy free milk and a gluten free nut flour.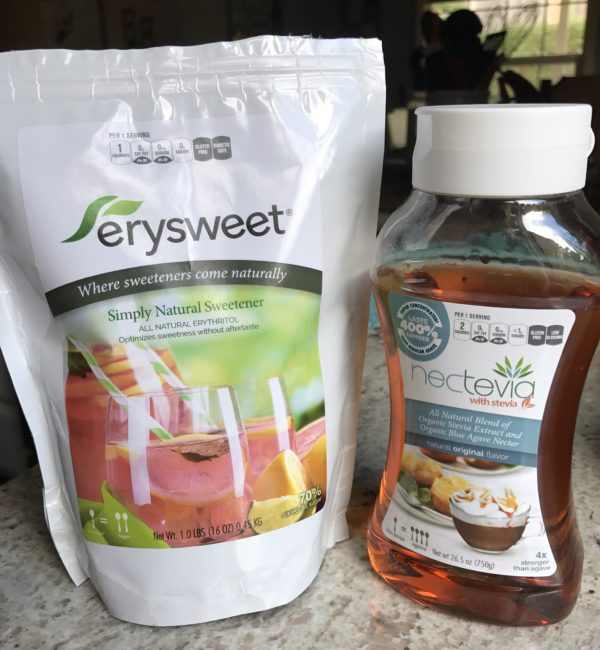 I decided to use Erysweet and Nectivia for my Sippable Peach Pie with Almond Pastry Leaves. Even the sugared rim is made with the Erysweet product and spices. Soooo good.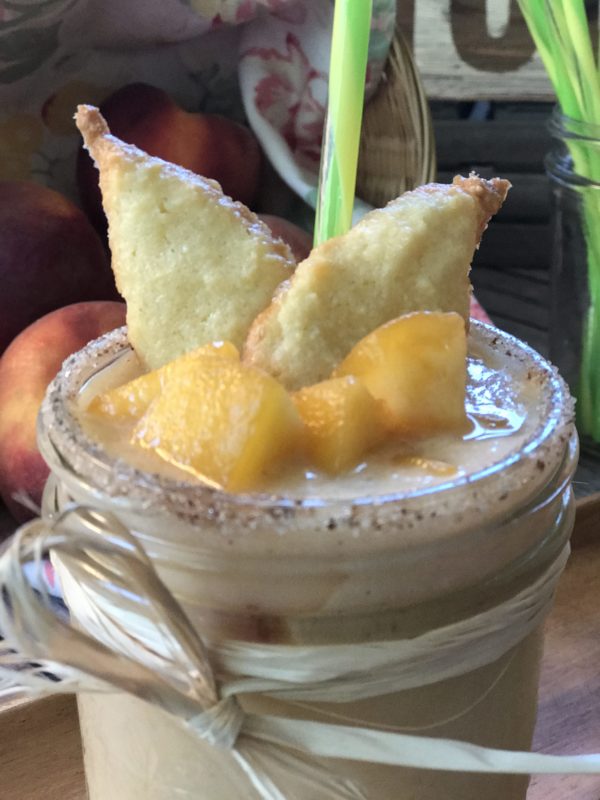 Aren't those gluten free pastry leaves cute? They make the perfect bite while sipping on your peach pie! Have fun making them. Each leaf turned out a bit different just like really leaves. No cookie cutter needed here, just your handy fingers.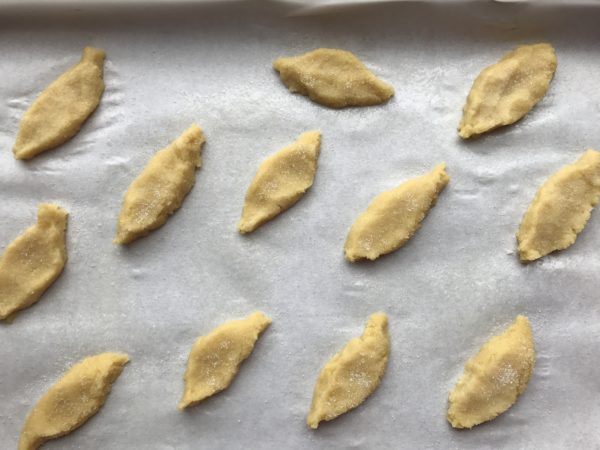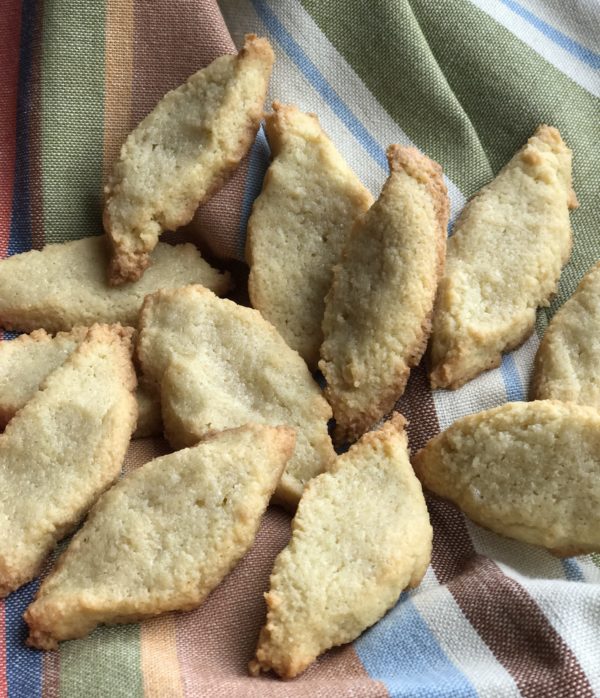 I was able to buy local fresh peaches from our Wednesday Farmers Market here in Salem. If you don't have a chance to buy fresh peaches, use a bag of fresh frozen peaches. Just set some aside to top the peach pie drink with. A happy side note: while reading over the packages, I saw that the Steviva company is not to far from me. Nice to see another company from Oregon, making great products.
Follow Steviva on their social media links and website for so many baking and cooking ideas.
Website: https://www.steviva.com/
Facebook: https://www.facebook.com/steviva
Twitter: https://twitter.com/steviva
Instagram: https://www.instagram.com/stevivabrands/
Pinterest: https://www.pinterest.com/stevivabrands/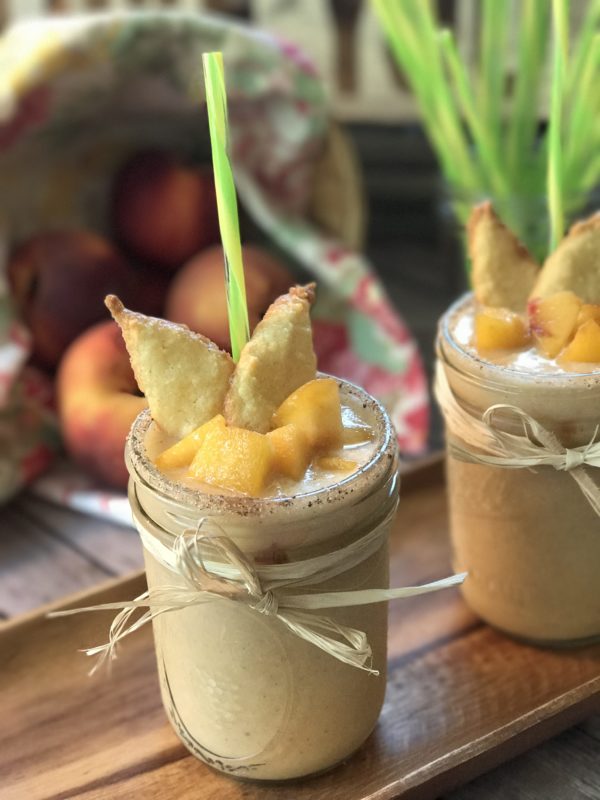 Make sure you stop by Steviva Brands Sweeteners and use the coupon code THANKYOU for 20% off your order. On a side not, all of the comments are mine!
This peach beverage is as good as pie. Well maybe even better because it is sugar-free, dairy-free and gluten free. The almond milk adds a nutty flavor that goes well with peaches. Nectevia adds just the right amount of sweetness with a slight honey taste as well as reduced calories.
Ingredients
Almond Pastry Leaves:
3/4 cup blanched almond flour
2 tablespoons Erysweet plus some for sprinkling on the leaves
2 tablespoons avocado oil (other oils can be used even melted ghee)
3 tablespoons beaten egg
1 teaspoon vanilla extract
Pinch of salt
Cooking spray
Parchment paper
Sweet and Spice Rim:
2 tablespoons Erysweet
1/4 teaspoon ground cinnamon
Pinch of fresh grated nutmeg
Peach Pie Drink:
1 pound fresh frozen peaches, peeled and cubed
1/4 pound fresh peaches, peeled and cubed (approximately 2 small peaches)
3 cups almond milk, unsweetened vanilla flavored
1/4 teaspoon ground cinnamon
1/8 teaspoon fresh grated nutmeg
3 tablespoons Nectevia
4 straws and 4 glass jars or mugs, (raffia ribbon is optional but so cute)
Instructions
Heat oven to 350 degrees. Mix together all of the almond pastry leaves ingredients. Allow to set for a few minutes for the pastry dough to firm together.
Line a baking sheet with parchment paper and spray with cooking spray.
Using a tablespoon, take a scoop of the dough and roll it off of the spoon onto the baking sheet. Make 16 leaves. Shape the leaves with moistened fingers. Sprinkle with Erysweet and bake for 12-14 minutes or until the leaves edges are brown and the surface is no longer moist looking.
Allow the leaves to cool.
Mix together the ingredients for the Sweet and Spice Rim in a shallow bowl. Lightly wet the rim of each glass with water and dip into the mixture. Set the glasses aside. (if you choose to add the raffi ribbon, add it before dipping the glasses)
In a blender, add the frozen peaches, almond milk, spices and Nectevia. Blend until smooth.
Pour into glasses, top with fresh cubed peaches, two pastry leaves and a straw.
Serve immediately and enjoy!!




by